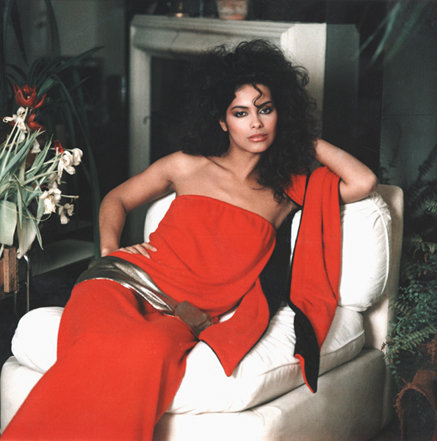 Evangelist DENISE MATTHEWS
SCROLL All the Way DOWN to VIEW Everything!
This is a beta version of NNDB

Vanity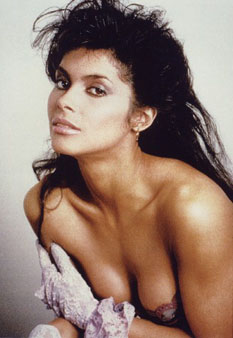 AKA Denise Katrina Matthews
Born: 4-Jan-1959
Birthplace: Niagara Falls, Ontario, Canada
Died: 15-Feb-2016
Location of death: Fremont, CA
Cause of death: Kidney failure
Gender: Female
Religion: Born-Again Christian
Race or Ethnicity: Multiracial
Sexual orientation: Straight
Occupation: Singer, Actor
Nationality: Canada
Executive summary: Lingerie-clad Prince protégé
"We're living in the last days. Sodom and Gomorrah is the entire world."
So sayeth the first of several scantily-clad sex kittens cultivated byPrince in the 1980s, and no doubt she is speaking from personal experience. Denise Katrina Matthews was given a difficult start to her life, having been abandoned very early in her childhood by her mother and forced to endure an abusive father. As a young adult she began to establish a career for herself as a model and actress, assuming the stage name "D.D. Winters" and taking roles in b-movie fare such as Terror Trainand Tanya's Island (both 1980). Eventually, she came to the attention of a certain high-heeled, purple svengali, at the time well on his way to becoming an international phenomenon; the two became romantically entangled, and, in the spirit of selfless generosity, her new boyfriend decided to re-name her "Vaginia" and create a girl group around her which he planned to call The Hookers. Even in her confused youth Matthews recognized that a little restraint was in order, and the two compromised with the name "Vanity" and the group name Vanity 6.
The eponymous debut from Vanity 6 (a trio also featuring the undergarments of Brenda Bennett and Susan Moonsie) arrived in 1982, festooned with suspender belts, lacy fringe and saucy language. By this time, Prince was beginning to perfect his sexually explicit blend of funk, pop, new wave, and although the first single He's So Dull failed to make much of an impression, the second attempt Nasty Girl became a major crossover success. Lesser hits Bite The Beat and Drive Me Wild followed. In 1984 Prince and Vanity ended their relationship, with the latter dropping out of the group and her planned role as Prince's lover in his debut film Purple Rain; she was quickly replaced in both (actually, all three) ventures by Patricia Kotero, who had her own brief fling with fame under the name Apollonia. Matthews managed to arrange a deal with Motown and, still working under the Vanity moniker (and the racy image that went with it), released two moderately successful albums: 1984's Wild Animal and 1986's Skin on Skin. During this time she also resumed her acting career, landing significant roles in Hollywood action flicks such as The Last Dragon(1985), Never Too Young To Die (1986) and 52 Pick-Up (1986).
After Skin on Skin Matthews' musical output evaporated completely, but for the next decade she continued her work in film and television -- usually keeping well inside the bounds of the action/thriller genre with which she had now become associated. Appearances in Deadly Illusion (1987), Action Jackson (1988),South Beach (1992), Neon City (1992) and Da Vinci's War (1993) maintained her presence on the big screen, supplemented by roles in the television movies Memories of Murder (1990) and Lady Boss (1992) and series such as Miami Vice, Mike Hammer, Tales from the Crypt, Silk Stockings and Highlander. Over the years Matthew's extensive drug abuse had taken a serious toll on her health (causing damage to her liver, eyesight and hearing, and eventually resulting in a heart attack), and following her involvement in the low-budget thriller Kiss of Death in 1995 she announced that she had been born again and was formally renouncing the hedonistic lifestyle of her past. All ties with the entertainment industry were abandoned, and the former "Vanity" subsequently established her own evangelical ministry.
Father: (Black)
Mother: (German)
Sister: Patricia Matthews (model)
Husband: Anthony Smith (m. 26-Mar-1995, div. 1996)
Boyfriend: Adam Ant
Boyfriend: Prince
Boyfriend: Nikki Sixx
    Vanity 6 Vocalist (1981-83)
    Vanity 
    The PMRC Filthy Fifteen #4 Strap On Robby Baby
    Posed Naked for Playboy 1984
    Stroke 
    Heart Attack 
    Born-Again Christian 1995
    German Ancestry Maternal
    Risk Factors: Kidney Transplant, Cocaine, Depression
    FILMOGRAPHY AS ACTOR
    DaVinci's War (1993) 
    South Beach (1993) · Jennifer Derringer
    Neon City (1992) 
    Action Jackson (12-Feb-1988) · Sydney Ash
    Deadly Illusion (16-Oct-1987) 
    52 Pick-Up (7-Nov-1986) 
    Never Too Young to Die (17-Jul-1986) 
    The Last Dragon (22-Mar-1985) · Laura
    Terror Train (3-Oct-1980) 
Official Website:
http://www.denisematthews.com/
Author of books:
Blame It On Vanity (1999, memoir)
Click here  http://www.nndb.com/people/147/000046009/
**
JOIN Us on FaceBook:
..Ann Dandridge "remembers" Dorothy Dandridge
V
SCROLL All the Way DOWN to VIEW Everything!