Video Below Works
SCROLL All the Way DOWN for more VIDEOS! ENJOY!



Bobby Womack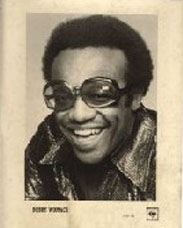 AKA Bobby Dwayne Womack
Born: 4-Mar-1944
Birthplace: Cleveland, OH
Died: 27-Jun-2014
Cause of death: unspecified
Gender: Male
Race or Ethnicity: Black
Sexual orientation: Straight
Occupation: Singer
Nationality: United States
Executive summary: R&B guitarist and songwriter
Born into a family of musicians, Bobby Womack got his start in the music industry singing alongside his four brothers in the gospel group The Womack Brothers. While touring the gospel circuit the brothers attracted the attention of singer Sam Cooke, who eventually signed them to his SAR Records label. By 1962 the act was renamed The Valentinos, and under this name they produced the popular singles Lookin' For A Love and It's All Over Now -- both songs later being made even more popular through versions by J. Geils Band and The Rolling Stones, respectively. Womack was also enlisted to contribute guitar to Cooke's own recordings during this period.
Continued Click here
http://www.nndb.com/people/744/000047603/