Nebula Stone
KEY WORDS Bringing spiritual Light into matter, attuning to probable futures, fulfilling one's highest aspirations, feeling at home in the body and on Earth ELEMENT Storm CHAKRAS All, especially Root (1st), Crown (7th)



Nebula Stone is the name given to a new material discovered in the Americas. The name derives from the green eyes which appear interspersed throughout the dark green background, reminiscent of nebulas in space.



Nebula Stone is an unusual alkalic volcanic rock composed of the four minerals Quartz, Anorthoclase, Riebeckite and Aegirine. It lends itself easily to polishing and jewelry-making.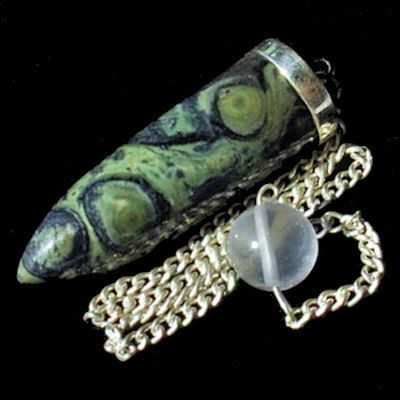 Nebula Stone or Nebula stone image of two large Nebula Stones



ROBERT SIMMONS: Nebula Stone offers unique and powerful energies. It combines and blends the properties of its four main elements. The Quartz component of Nebula Stone can be seen as the energizing force which activates and amplifies the other minerals present in it. Quartz makes Nebula Stone programmable, so that one who wears or carries it can utilize it to assist in the attainment of personal and spiritual goals. The Quartz component also makes Nebula Stone a material which harmonizes with all types of Quartz and most other stones. It is therefore ideal for body layouts, energy grids, and multiple-stone jewelry pieces.



The Riebeckite component of Nebula Stone activates the psychic senses and facilitates growth in the areas of spiritual pursuits and right livelihood. Aegirine clears negativity from the auric field and stimulates the kundalini and the psyche, giving one the energy and courage to do whatever is necessary for the fulfillment of one's highest path.



Anorthoclase provides an unorthodox, revolutionary energy that draws its inspiration from its resonance with the 'lure of becoming'—in other words, the patterns of future possibility seen by the eye of intuition. The traits of all its components combine to make Nebula Stone a powerful talisman of transformation.



There is something very appealing about Nebula Stones—to the eye, to the touch and to the emotions. It 'likes to be held,' and it gives satisfaction to oneself when it is touched, rubbed or worn. It is very comforting, and it generates a feeling of familiarity which comes from Nebula Stone's effect of harmonizing one's energies—



Nebula Stone makes one feel more contented in one's body, more complete in one's life, more at home on the Earth.



Nebula stone makes one feel mentally alert and able, physically strong and comfortable, and spiritually attuned to the higher vibrations of consciousness. Nebula Stone is a valuable stone to have at all times, as jewelry or as a pocket or pouch stone.



Combined with Pietersite, Nebula Stone's energies can create balance and centeredness within an awakened kundalini's dynamic flowing energy. Combining Moldavite with Nebula Stone enhances one's ability to contact and utilize intergalactic intelligence. Adding Phenacite, Danburite, Azeztulite, Natrolite, Scolecite, Herderite or Brookite to Nebula Stone can facilitate one's connection with the highest spiritual energies and entities. Combining Zincite with Nebula Stone emphasizes physical vitality and strength. Pairing Chrysoprase or Emerald with Nebula Stone creates a higher activation of the heart chakra and an enhanced healing capacity. Putting the lab-grown Siberian Blue Quartz with Nebula Stone would help one increase one's psychic abilities.



Many other stones, such as Amethyst, Ruby, Yellow Sapphire, Lavender Jade, and all types of Quartz will combine harmoniously with the singularly beautiful and powerful material known as Nebula Stone.



NAISHA AHSIAN Within moments of my picking up this stone, it grew warm and began to pulse in my hand. I felt a rush of healing energy in the first and second chakras, which quickly moved upward through the chakric column and led me out of body and deep into the heart of space. This stone activates the most ancient and basic aspects of the physical body, energizing the carbon molecules and attuning one's consciousness to the dance of sub-atomic particles that are the basis of the physical world.



While Nebula Stone is strongly grounding, it activates the remembrance of Light within the cells, drawing Light into the physical body and activating the consciousness of each particle of matter.

This creates an expansion of one's consciousness that is powerfully awakening. This activation of the cells and particles of the physical body can initiate healing experiences, but more importantly, it facilitates a remembrance of who and what we truly are—Spirit as body.



Nebula stone carries the energy of the archetype of the Great Mother. It represents the ancient and primal creative aspect of the Universe. It assists in recovering one's power and utilizing it through the process of creation.



SPIRITUAL: Nebula Stone attunes one to the primordial energy of creation and enhances one's ability to find one's inner knowledge of the Creator. It helps one carry a more expanded range of Light frequencies and can aid in grounding one through the spiritual opening process.



EMOTIONAL: Nebula Stone helps purify and strengthen the emotional body. Its energy is supportive and encouraging, prompting one to clear any old emotional patterns or habits that stand in the way of one's growth.



PHYSICAL: Nebula Stone is purifying for the physical body. It can help in detoxifying from chemical abuse and in breaking self-abusive patterns and behaviors. It is ideal for recovery from alcohol or drug addiction. Nebula Stone encourages the release of toxins and heavy metals from the organs and tissues. It can help regulate cystitis and promotes fertility in women.



AFFIRMATION: From the myriad possible futures for my life, I select and fulfill my highest spiritual path.