Martha Washington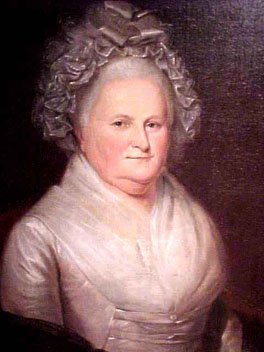 aka MARTHA DANDRIDGE
Born: 2-Jun-1731
Birthplace: Chestnut Grove, VA
Died: 22-May-1802
Location of death: Mount Vernon, VA
Cause of death: Fever
Remains:Buried, Mount Vernon Estate, Mount Vernon, VA
Gender: Female
Religion: Anglican/Episcopalian
Race or Ethnicity: White
Sexual orientation: Straight
Occupation: First Lady
Nationality: United States
Executive summary: Wife of US President George Washington
MARTHA DANDRIDGE married into great wealth when she was 17, to a man twenty years older than she. He died seven years later, leaving her a fortune and two children to raise. Shortly thereafter she met George Washington, a commander of the First Virginia Regiment in the French and Indian War, and former member of the House of Burgess, representing Frederick County. They were married seventeen years before the rebellion that made America.
When he became President, Martha Washington did not attend his inauguration. Her husband's personal secretary wrote certain rules of protocol based on European royal traditions, which among other restrictions forbade her or her husband from accepting any invitations to dine in private residences other than their own. She had few friends in the newborn nation's temporary capitals where they lived -- New York and Philadelphia -- but she held formal dinners at the President's residence once weekly on Thursdays, and opened their home to selected members of the general public on Fridays. She was disappointed that even such mundane errands as going shopping or taking her grandchildren to a park were intruded upon by reporters detailing her every move. She told a niece that "many younger and gayer women would be extremely pleased" to be the President's wife, but that she would "much rather be at home".
After her husband's death, she did not attend his funeral. In his will, he freed half his slaves, rendering the remainder as his wife's property, but shortly after his death the widow Washington freed all the family's remaining slaves. In 1802, shortly before her own death, she burned many of his personal letters.
Father: John Dandridge county clerk
(b. 14-Jul-1700, d. 31-Aug-1756)
Mother: Frances Jones Dandridge
(b. 6-Aug-1710, m. 22-Jul-1730, d. 9-Apr-1785)
Brother: John Dandridge
(b. 23-Feb-1732, d. 23-Jul-1749)
Brother: William Dandridge
(b. 2-Mar-1734, d. 22-Jan-1776)
Brother: Bartholomew Dandridge
(b. 25-Dec-1737, d. 18-Apr-1785)
Sister: Anna Maria Dandridge Bassett "Fanny"
(b. 30-Mar-1739, d. 17-Dec-1777)
Sister: Frances Dandridge
(b. 2-Nov-1744, d. 10-Feb-1758)
Sister: Elizabeth Dandridge Aylett Henley
(b. 25-May-1749, d. 1800)
Sister: Mary Dandridge
(b. 4-Apr-1756, d. 25-Sep-1763)
Sister:  Ann Dandridge Costin
(half-sister, slave, born to John Dandridge's slave)
Brother: Ralph Dandridge
(half-brother, born to John Dandridge's mistress)
Husband: Daniel Parke Custis plantation owner
(b. circa 1711, m. 1750, d. 1757)
Son: Daniel Dandridge Custis
(b. 1751, d. 1754)
Daughter: Frances Custis
(b. 1753, d. 1757)
Son: John Parke Custis "Jack"
(b. 1754, d. 5-Nov-1781 dysentery)
Daughter: Martha Parke Custis "Patsy"
(b. circa 1756, d. 19-Jun-1773 epilepsy)
Husband: George WashingtonUS President
(b. 22-Feb-1732, m. 6-Jan-1759, d. 14-Dec-1799)
    Slaveowners
    English Ancestry Paternal
    French Ancestry
    Welsh Ancestry