"REMEMBER The TIME"
Goodbye MICHAEL JACKSON! I'll "Never" Forget Wonderful You!
I've really enjoyed seeing Your Profound Performances over the years! As a child performing in Chicago, IL at The High Chapparell, The Regal Theatre and countless talent shows in the Chicago area where You always Won! I was soooo proud of THE WIZ, The Premiere was great, seeing You as the Scarecrow melted my heart! Qunicy Jones and You and the "Off the Wall" Album made the World open their eyes wide! "Thiller" didn't sell the 1st time and then Qunicy said, wait a minute the World missed it! Don't worry!. He waited 3 months and then re-released "Thirller" and it was a big success! I will cherish my photo of Me, You and Suzanne DePasse at "The CITY OF HOPE Lifetime Achievement Awards" honoring Quincy Jones! You will truly be missed by millions! Thanks for the Memories! May JEHOVAH GOD Bless You and Keep You in Jesus' Name!
Ann Dandridge, Creator POWERFUL PEOPLE and FRIENDS
Read more interesting facts about MICHAEL JACKSON
Click here: http://www.nndb.com/people/599/000022533/

and Here: http://www.MichaelJackson.com
August 29, 1958 - June 25, 2009
Michael Jackson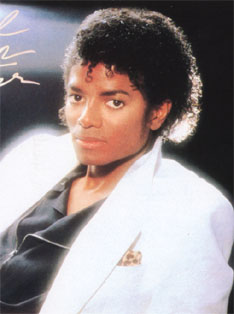 AKA Michael Joseph Jackson
Born: 29-Aug-1958
Birthplace: Gary, IN
Died: 25-Jun-2009
Location of death: Los Angeles, CA
Cause of death: Accident - Overdose [1]
Remains: Buried, Forest Lawn Memorial Park Cemetery, Glendale, CA
Gender: Male
Religion: See Note [2]
Race or Ethnicity: Black
Sexual orientation: Matter of Dispute [3]
Occupation: Singer, Dancer
Nationality: United States
Executive summary: King of Pop
The proclaimed King of Pop, Michael Jackson was an icon of 20th century music, and the most enigmatic performer of the century. Raised in a tough showbusiness family, he was a natural performer thrust into the limelight at a young age. At the height of his popularity, with 1982's Thriller, he was a superstar beloved by millions. But by the time of his death, his glories had been overshadowed by plastic surgery and public trial, and a life cut short just as he was about to stage his comeback.
Continued here  Click here:  http://www.nndb.com/people/599/000022533/
MICHAEL JACKSON was awarded his own STAR on the Hollywood Walk of Fame on November 20, 1984. 6927 Hollywood Blvd
 
 
Top Earning DEAD Celebrities
Click here: http://abcnews.go.com/Business/top-earning-dead-celebrities/story?i...
JOIN Us on FaceBook:
..Ann Dandridge "remembers" Dorothy Dandridge
SCROLL All the Way DOWN to View EVERYTHING