SAN FRANCISCO (AP) — California artist Thomas Kinkade, whose brushwork paintings of idyllic landscapes, cottages and churches were big sellers for dealers across the country, died Friday, a family spokesman said.
Kinkade, 54, died at his home in Los Gatos in the San Francisco Bay Area of what appeared to be natural causes, David Satterfield said.
Kinkade's sentimental paintings, with their scenes of cottages, country gardens and churches in dewy morning light, were beloved by middlebrow America but reviled by the art establishment.
The paintings generally depict tranquil scenes with lush landscaping and streams running nearby. Many contain images from Bible passages.
Kinkade, a self-described devout Christian, claimed to be the nation's most collected living artist. His paintings and spin-off products were said to fetch some $100 million a year in sales, and to be in 10 million homes in the United States.
"I'm a warrior for light," he told the San Jose Mercury News in 2002, in reference to his technical skills but also the medieval practice of using light to symbolize the divine. "With whatever talent and resources I have, I'm trying to bring light to penetrate the darkness many people feel."
Before Kinkade's Media Arts Group went private in the middle of the past decade, the company took in $32 million per quarter from 4,500 dealers across the country 10 years ago, according to the Mercury News. The cost of his paintings range from hundreds of dollars to more than $10,000.
The THOMAS KINKADE Official Website
Click here:  http://www.thomaskinkade.com/index_splash.html

Thomas Kinkade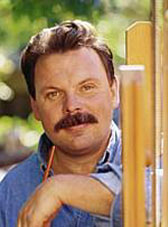 Born: 19-Jan-1958
Birthplace: Sacramento, CA
Died: 6-Apr-2012
Location of death: Los Gatos, CA
Cause of death: unspecified
Gender: Male
Religion: Born-Again Christian
Race or Ethnicity: White
Sexual orientation: Straight
Occupation: Painter
Nationality: United States
Executive summary:Self-proclaimed "Painter of Light"
Stinking rich off his mass-marketed art replicas.
Stole Hirschfeld's gimmick and began hiding the initials of his wife and daughters' names throughout his paintings.
An article in the Los Angeles Times on 5 March 2006 reported on allegations of Kinkade's drunken antics, such as pissing on a statue of Winnie the Pooh at Disneyland in the late 1990s, as well as groping a fan in August 2002 during a print-signing event in South Bend, Indiana:
"This one's for you, Walt," the artist quipped late one night as he urinated on a Winnie the Pooh figure, said Terry Sheppard, a former vice president for Kinkade's company...

"He approached [her] and he palmed her breasts and he said, 'These are great tits!'" Ernie Dodson, another Cote employee, told The Times, adding that he drank no alcohol that night. "I was just standing in the corner in amazement. It was like, holy cow!"...

Kinkade testified in a deposition that excessive drinking and "some normal rowdy talk" had taken place, but when confronted with the groping allegation, he denied touching the woman.

"But you've got to remember," he said, "I'm the idol to these women who are there. They sell my work every day, you know. They're enamored with any attention I would give them. I don't know what kind of flirting they were trying to do with me. I don't recall what was going on that night."

[1]
---
[1] Kim Christensen, Dark Portrait of a "Painter of Light", Los Angeles Times, 5 March 2006.
Father: William Thomas Kinkade II
Mother: Maryanne
Sister: Laura (half sister)
Sister: Roberta (half sister)
Sister: Kate
Brother: Patrick
Wife: Nanette Kinkade (m. 2-May-1982)
Daughter: Merritt Christian Kinkade (b. 1988)
Daughter: Chandler Christian Kinkade (b. 1991)
Daughter: Winsor Christian Kinkade (b. 1995)
Daughter: Everett Christian Kinkade (b. 18-Jun-1997)
    High School: Placerville, CA (1976)
    University: University of California at Berkeley
    University: Art Center College of Design, Pasadena, CA
    The Sacramento Bee paperboy
    Make a Wish Foundation
    Salvation Army
    World Vision International
    Driving While Intoxicated Carmel, CA (13-Jun-2010) no contest; sentenced to 10 days in jail
    Irish Ancestry
    Scottish Ancestry
    Risk Factors: Alcoholism
    FILMOGRAPHY AS ACTOR
    Christmas Cottage (11-Nov-2008)
Official Website:
http://www.thomaskinkade.com/
Copyright ©2012 Soylent Communications
NNDB Tracking the entire World Click here:  http://www.nndb.com/people/701/000026623/ 
Thomas Kinkade's death ruled an accidental overdose
Thomas Kinkade, the "Painter of Light" whose collectible works were beloved by fans and bemoaned by critics, died of an accidental overdose of alcohol and prescription tranquilizers, officials confirmed to the Associated Press. A combination of Valium and alcohol was the cause of the painter's April 6 death, the Santa Clara County Medical Examiner-Coroner's Office said Tuesday.

In this Sept. 15, 2006, photo, Thomas Kinkade unveils his painting, "Prayer For Peace," at the opening of the exhibit "From Abraham to Jesus," in Atlanta. (Gene Blythe - AP)
Kinkade, whose bucolic scenes of cottages and Americana expanded into an empire of galleries and merchandise, called himself "the nation's most collected living artist," estimating that his work could be found in one out of 20 homes in the U.S. He was the only artist to ever have a company traded on the New York Stock Exchange.
However, the commercialization and kitsch of his work didn't win him many fans among the art-world elite, or with critics. As the Style Blog wrote after his death, Kinkade's legacy was deeply polarizing: For every art critic who called his art saccharine, sentimental or heavy-handed with its Christian imagery, there were a dozen fans who found beauty in his brushstrokes.

In this April 9, 2012, photo, Jeff Nilluka, left, and his son Jamis, 8, view the works of Thomas Kinkade at Kinkade gallery in Placerville, Calif. (Rich Pedroncelli - AP)
Kinkade's death follows years of personal problems. He was arrested for a DUI in 2010. After he was forced to pay a settlement for withholding financial information from investors, he wrote a letter of apology that cited his drinking problem, according to the Religion News Service. Shortly before his death, he had separated from his wife; a judge later issued a restraining order against his girlfriend, Amy Pinto-Walsh, for breaking a confidentiality agreement after his death.
As fans mourned, interest in his artwork surged, with collectors scooping up paintings from Kinkade-branded galleries. But for those looking to acquire a Kinkade, caveat emptor: Most Kinkade works are reproductions, not originals, and they're not likely to appreciate in value, as other art on the market might. Read about what else buyers should know here.

Thomas Kinkade's Studio Masterwork, "Indy Excitement, 100 Years of Racing at Indianapolis Motor Speedway." (AP)
By Maura Judkis  |  07:33 PM ET, 05/08/2012